Breve reseña de la Historia en Sisal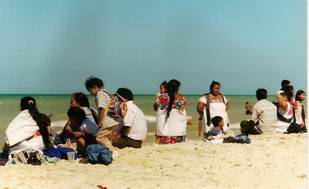 Only 53 kilometers separate this legendary port from the state capitol of Merida. Sisal located in the
eastern part of Yucatan, was the main port of entry and exit to the rest of the world in the 17th century.
Through here passed a variety of products, including the flous Yucatecan Henequen, which took the
name of "Sisal " in the foreing countries due the name of this, by then very important Yucatan port.
The formidable walls raised by ancient settlers as protection against fearful pirates are well worth
a visit.
Not to be missed is the called " Castillo de Sisal " antique castle from the colonial times, built against
pirate´s attacks, which through the time has suffered some changes; it is a two stories building, the bottom floor has a vestibule, 7 rooms and a patio, the second floor has two water cisterns, the light house tower and a masonry stairway that permits direct access from the street.
Now the "Castillo de Sisal" is the Museo del Mar home.